Events
Staff from Garbelman Winslow Attend the
2017 Thomson Reuters Synergy User Conference in Nashville, Tennessee
Left to Right - GW Staff Accountant Lori Walker, GW Partner Samantha Bowling and GW Staff Accountant Michelle Truscott
Happy Halloween From
Garbelman Winslow CPAs
Back Row: Dan, Tom, Bill, Lori, John, Barrett and Sam
Front Row: Kelly and Bree
-------------------
GW Accounting Manager, Barrett Young, III with AICPA Chair Kimberly Ellison-Taylor and GW Partner Samantha Bowling at the MACPA's Believe in Us Event. Kimberly received the Mayoral Citizen Success Citation from the Mayor of Baltimore. Congratulations Kimberly!
----------
GW Partner Samantha Bowling with fellow members of the MACPA Board of Directors visit Capitol Hill to meet with lawmakers
-----------
Maryland Gov. Larry Hogan issued a proclamation honoring MACPA member and AICPA chair Kimberly Ellison-Taylor for her contributions to the profession. Kimberly is the first Marylander to serve as AICPA chair, and just the fifth woman to do so. And she is the first minority, male or female, to lead the Institute's Board of Directors.
Senator Brian Feldman, one of only two CPA's currently serving in the General Assembly presents Kimberly Ellison-Taylor with the honor.
-----------------------------------------------
Record turnout as MACPA members invade Annapolis for CPA Day
Maryland's lawmakers returned to Annapolis on January 11, 2017. Maryland's CPAs arrived this week, and if the 2017 edition of CPA in Annapolis is any indicaiton, it's going to be a memorable Generall Assembly session.
A record number of CPAs-nearly 250 in all- turned out on January 26, 2016 to help protect their profession. They spoke with lawmakers, explained the impact that various issues would have on Maryland's business community, and did wat too fee citizens do these days; They got involved. They took a stand. They raised their voices.
-----------------------------------------------
Happy Holidays from Garbelman Winslow CPAs!!!
-----------------------------------------------
HAPPY HALLOWEEN FROM GARBELMAN WINSLOW CPAS!!!
-----------------------------------------------
Garbelman Winslow staff attends the 2016 Women to Watch Awards
September 30, 2016
Garbelman Winslow CPA's staff: Briana Washington, Michelle Truscott, Samantha Bowling, Kelly Edelen and Lisa Burdick
Garbelman Winlsow staff listen to keynote speaker AICPA Chairman Kimberly B, Ellison-Taylor
-----------------------------------------------
Maryland's Top 100 Women of 2016
Garbelman Winslow CPAs Partner and Maryland Top 100 Women of 2016 Winner, Samantha Bowling celebrating with Garbelman Winslow CPAs Staff Accountant Michelle Truscott, Samantha's Husband, David Bowling and Samantha's Sister, Heather Wilt.
Garbelman Winslow CPAs Partner and Maryland Top 100 Women of 2016 Winner, Samantha Bowling with her Client Linda Yancy of Yancy and Associates, Inc.
-----------------------------------------------
The Westlawn Inn, located on 7th and Chesapeake Avenue in North Beach, opened in July 2004. The building is an original historical structure in the town, serving for most of its seventy-five years as a boarding house or bed & breakfast. Proprietors Lee and Jan Travers offer a casually upscale dining venue offering a traditional American menu with a retro flair. The restaurant's goal is to provide scrumptious cuisine and superior service in an elegant but friendly atmosphere.
-----------------------------------------------

Garbelman Winslow CPAs Partner Samantha Bowling at the AICPA Accounting Scholars Leadership Workshop with Ronzel Darling, Steven Moore, Alisha Jones and Leticia Culajay.
The AICPA Accounting Scholars Leadership Workshop (ASLW) is an invitational program for underrepresented minorities accounting students who plan to pursue the CPA credential. In its 21st year, this program emphasizes the myriad of opportunities that the CPA profession provides to make a positive difference through leadership development. Through speakers, panel discussions, and interactive programs, participants become better prepared to take the steps that follow graduation with confidence and an enhanced understanding of the various career paths within the accounting profession
-----------------------------------------------
Garbelman Winslow CPAs Partner Samantha Bowling at the AICPA Council Spring 2015 Meeting in Washington D.C with Tom Hood – Executive Director/CEO of the MAPCA, Byron Patrick- CEO Simplified Innovations Inc., Maryland Congressman John Sarbanes, and Allen DeLeon, Partner - DeLeon & Stang, CPAs
-----------------------------------------------


Garbelman Winslow CPAs Partner Samantha Bowling with Barrett Young of Green Abacus at the MACPA Southern Maryland Chapter mentoring event on May 15, 2015 at the Blue Crabs Stadium, Waldorf, Maryland.
-----------------------------------------------


Happy Halloween 2014 from Garbelman Winslow CPAs!
-----------------------------------------------
MACPA HONORS WOMEN LEADERS WITH THE FIRST WOMEN TO WATCH AWARDS –
MACPA Chair Marianela del Pino-Rivera and AICPA Chair-elect Tommye Barie hosted the first Women to Watch Awards breakfast on Sept. 23, 2014.
Past MACPA board member Samantha Bowling, Partner at Garbelman Winslow CPAs, chaired the Task Force that developed the program as part of the AICPA's national initiatives on women, diversity and inclusion.
The first year set the bar high with an impressive number of nominations (32) and winners in two categories -- Emerging Leaders and Experienced Leaders.
Pictured above are Tommye Barie, Samantha Bowling and Marianela del Pino-Rivera with the nominees in the Emerging Leaders Category.
Pictured above are Tommye Barie, Samantha Bowling and Marianela del Pino-Rivera with the nominees in the Experienced Leaders Category.
The winners are:
Pictured above are from left to right: Experienced Leader Winner - Lexy Kessler,CPA, Partner at Aronson LLC; Tommye Barie, AICPA Chair-Elect; Emerging Leader Winner - Aileen Eskildsen, CPA, Director at Ellin & Tucker; Marianela del Pino-Rivera, MACPA Chair; Experienced Leader Winner – Tammy Schneider, CPA, Principal at Glass, Jacobson; Emerging Leader Winner - Elise Brouillette, CPA, Data Assurance Manager at PWC
This program was also supported by the AICPA and its national Women to Watch program. The event also included a special announcement from past MACPA Chair Anoop Mehta: the formation of a special minority scholarship in the name of the Mehta family and the first award to Tanyeka Alexander from the University of Baltimore.
The top woman in accounting, incoming AICPA Chair Tommye Barie, CPA, CGMA, offered some inspiration. She made the point that while we have made progress on diversity and inclusion in the CPA profession, we still have a way to go. She commended our MACPA leadership for taking on this very important issue. Then she offered three keys to success in her life:
1. Embrace opportunities that are outside your comfort zone. That's the best way to learn new things. Stretch yourself.
2. Aim high. My message here is, "Don't settle." You have choices in life. Be bold, be brave and be diligent about what you want.
3. Lead by example. Create a culture of leadership by showing that you're willing to put in at least as much effort as anyone else. Be an equal partner with your team and other colleagues. Roll up your sleeves, work late, and even work through the weekend if that's what it takes to accomplish the task at hand.
She closed with this:
"I leave you with this quote by Dr. Shad Helmstetter. 'You may think that in life, a lot of things happen to you along the way. The truth is, in life, you happen to a lot of things along the way.' In my mind, this statement exemplifies how you build a career. You are the one to make things turn out the way they do. From choosing a career you love to striving to be the best you can be and seizing all the opportunities available, you make your success happen."
Congratulations to all of the nominees and award winners!
-----------------------------------------------
BOWLING NAMED TO AICPA GOVERNING COUNCIL
Garbelman Winslow CPAs is proud to announce that partner Samantha A. Bowling has been named to the American Institute of Certified Public Accountants (AICPA) Governing Council.
The AICPA is the world's largest member association representing the accounting profession, with more than 394,000 members in 128 countries and a 126-year heritage of serving the public interest. AICPA members represent many areas of practice, including business and industry, public practice, government, education and consulting. The AICPA sets ethical standards for the profession and U.S. auditing standards for audits of private companies, nonprofit organizations, federal, state and local government. It develops and grades the Uniform CPA Examination and offers specialty credentials for CPAs who concentrate on personal financial planning: fraud and forensics; business valuation; and information technology.
"I am honored and excited about this opportunity" Bowling said in a news release announcing the appointment. "Serving as a Board of Director for the Maryland Association of Certified Public Accountants for the past two years has been both educational and inspiring. It is an honor to be able to take the next step and represent Maryland CPA's on a national level".
Samantha has been with Garbelman Winslow CPAs since 1993 and became the first female partner admitted into the firm in July 2005.
-----------------------------------------------
Samantha at the AICPA Council induction conference in Los Angeles on October 22, 2013. Pictured from left to right: Tom Hood, CEO - MACPA; Kimberly Ellison-Taylor, Director-Oracle; Joselin Martin, CPA - Hayes & Howe, Inc.; Samantha Bowling, Partner- Garbelman Winslow CPAs; Byron Patrick, Chair-MACPA; Lexi Kessler, Partner- Aronson, LLC; Bill Balhoff, Chair-AICPA; Ken Kelly, Senior VP - McCormick & Company, Inc.; Mike Manspeaker, Secretary/Treasurer - MACPA; Jackie Brown, COO- MACPA.
Partner Samantha Bowling attended the AICPA Governing Council in Scottsdale, Arizona – May 18th through the 20th
Pictured from left to right: Allen De Leon, Samantha Bowling, Anoop Mehta and Mike Manspeaker.
Beautiful Sedona, Arizona
Jackie Brown, Deputy Executive Director/COO - MACPA hanging out with the locals at the O.K. Corral in Tombstone, Arizona
Samantha Bowling and Anoop Mehta, CPA, CFO - Science Systems and Applications, Inc. at the O.K. Corral in Tombstone, Arizona
Samantha Bowling and her husband Dave enjoying the local cuisine at the O.K. Corral in Tombstone, Arizona
-----------------------------------------------
Happy Easter From Garbelman Winslow CPAs!
A very special thank you to our friends at Mount Harmony/Lower Marlboro Church for the yummy personalized chocolate Easter Eggs.

-----------------------------------------------
Garbelman Winslow CPAs attends CPA Day 2013!!!
Partner Samantha Bowling with Tom Hood
Partner Samantha Bowling attended the annual CPA Day at the Governor Calvert House in Annapolis on January 15th. A record number of MACPA members turned out to meet with their legislators and debate issues that impact CPAs and their clients. From a standpoint of protecting the profession, it's the most important event of the year. The more CPAs who invade Annapolis every January, the louder our voices become - and the better our legislators understand the financial impact of the decisions they make during session.
-----------------------------------------------
Happy New Year from Garbelman Winslow CPAs!!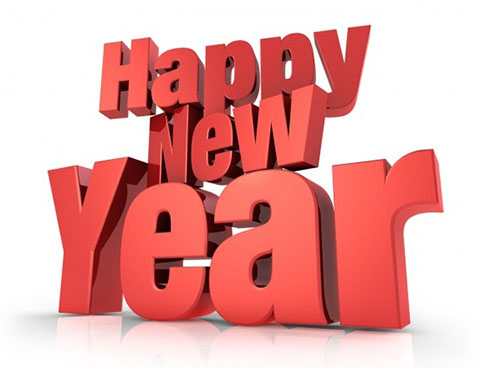 Everyone here at Garbelman Winslow CPAs would like to wish you a very happy and prosperous 2013!
-----------------------------------------------
Season's Greetings From Garbelman Winslow CPAs!!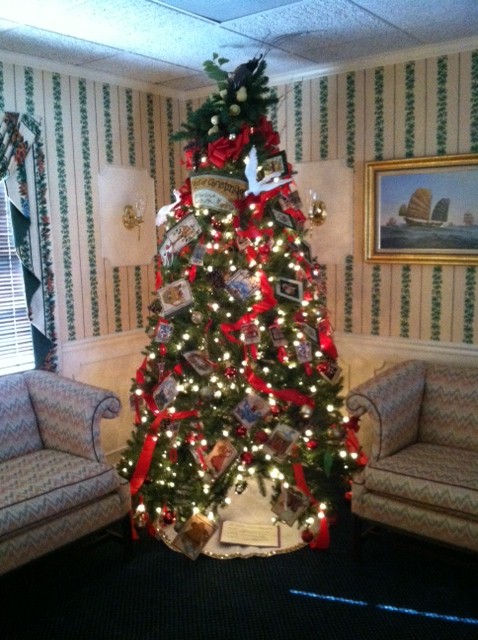 Garbelman Winslow CPAs is a proud sponsor of the Calvert County Hospice Festival of Trees.